In the style of... Doortje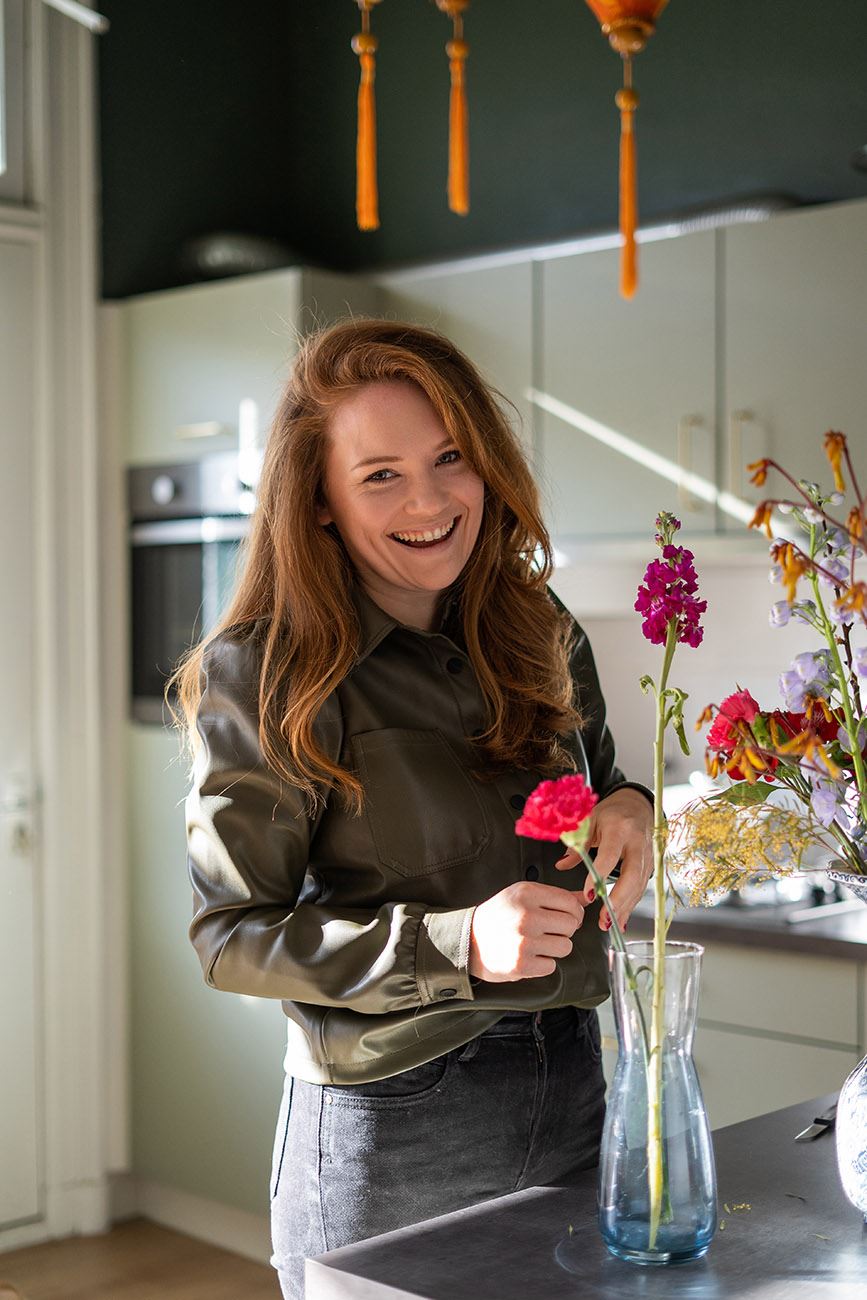 This time, we're spotlighting Doortje, a 25-year-old interior stylist from Amsterdam. Her daily Instagram posts (@thuisbijdoor) feature practical interior tips and inspiration you can use in your own interior. Every day, from her apartment in Amsterdam's de Pijp neighbourhood, where Doortje has lived for three and a half years, she posts fantastic interior ideas and comes up with new plans for sharing even more inspiration with the world. Because that's her goal: to show that anyone can create a wonderful, stylish home without investing a lot of time or money.
What sparked your passion for interior design?
I fell in love with interior design when I was a little girl, when I was always rearranging my room and drawing floor plans. I wanted to change the colour of the walls every couple of months which, sadly enough, wasn't very realistic at the time. When I was 19, I started studying all-round styling at the Artemis academy in Amsterdam, which reignited my creativity. That's where I learned the tricks of the trade, and became even more passionate about interior design.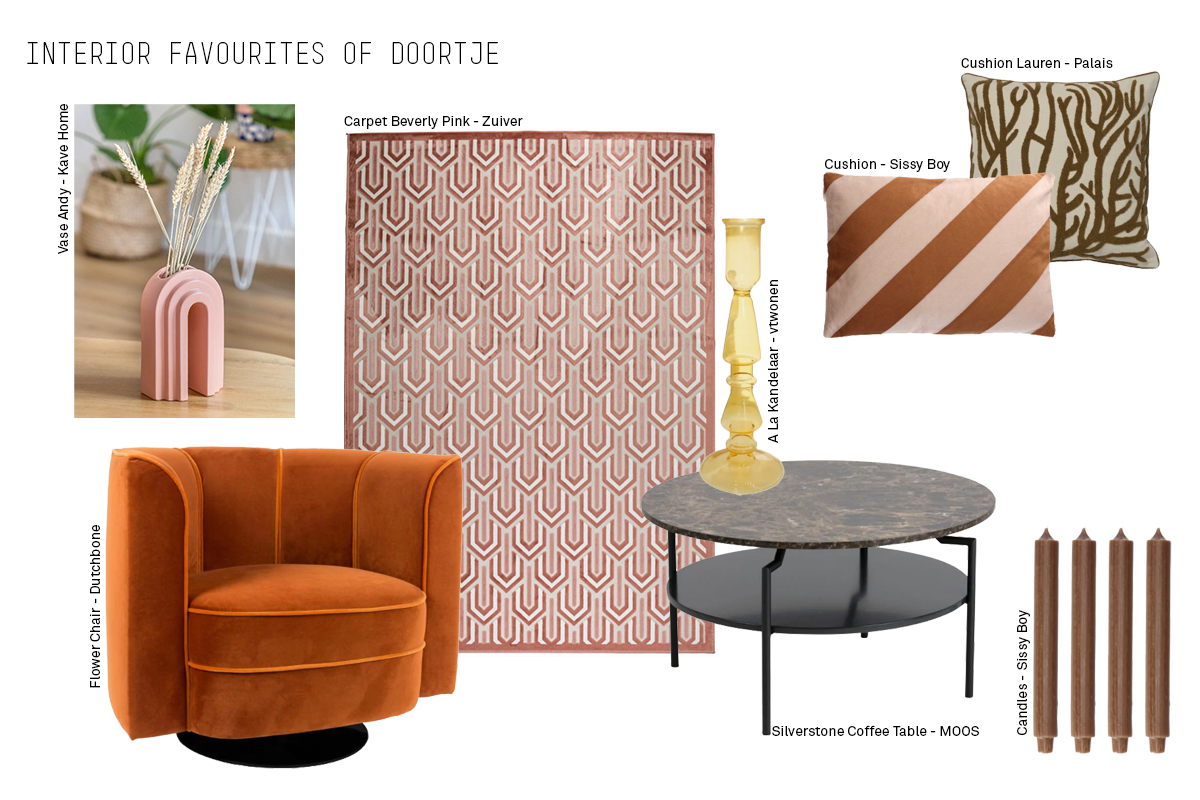 What makes you happy when you look at your own interior?
I'd say that being surrounded by a mix of colours and materials makes my home a happy place. It gives my interior warmth and feels very 'me'. There's not a white wall in the place! Personally, I'm not a fan of white. Another thing you'll find in my home is a combination of new and vintage accessories, which creates a playful look. And something else that I think adds a personal touch, are the things I inherited from my grandparents.

If you had to make a choice from the following statements, what would you choose?
Colourful | Neutral
Floral print | Animal print
Basic | Classic
Geometric | Botanical
Industrial | Romantic
Animal print | Geometric
Graphic | Etnic
Dots | Stripes
Self-adhesive circle | Mural (wallpower)

Do you have a colour palette that you try to stick to?
Not really! But I make sure that the colours work together, for example, by using shades similar to those in my kitchen in my living room accessories. This is a great way to make a cohesive palette that pulls the space together. I almost always choose shades with a warm undertone. In my bedroom and kitchen I also picked colours that complement each other so that these small spaces don't turn into a riot of clashing colours. I painted my kitchen cabinets grey-green, and the walls and ceiling dark green. For a bit of fun and contrast, I chose orange as an accent colour.
What are your tips for people who want to switch up their interior?
If you want to make small changes to your decor:
Paint and/or wallpaper are great options. They're your friend when you want to give a large space or surface area a makeover, and don't cost lots of time or money. And if you don't like the result? You can change it in less than a day. Keep that in the back of your mind: you don't have to live with the colour you pick today for the next 20 years if you don't like it. Next, pick accessories in the new colour. So, if you've decided to paint the wall green, place at least 3 green accessories throughout the room. A cushion, perhaps, or a candlestick, or poster. It's a great way to unify your interior!
If you're moving into a new-build, or an extensively renovated home:
The first thing to do if your home is a blank slate, is to come up with a good plan for the layout, the lighting, and then the overall atmosphere. The rest comes later! While you're still able to design the floor plan, I always recommend thinking carefully about all of the practical details. What's does our ideal space for relaxing look like? Is a large kitchen something we need? Once you've planned the layout, think about the lighting. Because lighting will make or break the ambience of your interior. Light is more important than colour for creating the perfect atmosphere. If you're extensively renovating, lighting is the one thing I recommend outsourcing—get a professional to design your lighting plan.

If you could redecorate your house now, what would you do differently and why?
I also love experimenting with colour in my own interior, so I do that a lot! If I had the chance to redecorate my house now, I'd pick a few new pieces of furniture and new curtains. I bought the current ones when I first moved here, when I was still a student. A stylish couch, but one that's more comfortable, is another thing that I'd change. I'd also replace my dining chairs: I bought them 4 years ago for €50 on Marktplaats, and stained them black. There's nothing wrong with them, but I'd love a little more comfort and luxury.
Photos: Lotte van Uittert