In the style of... Grace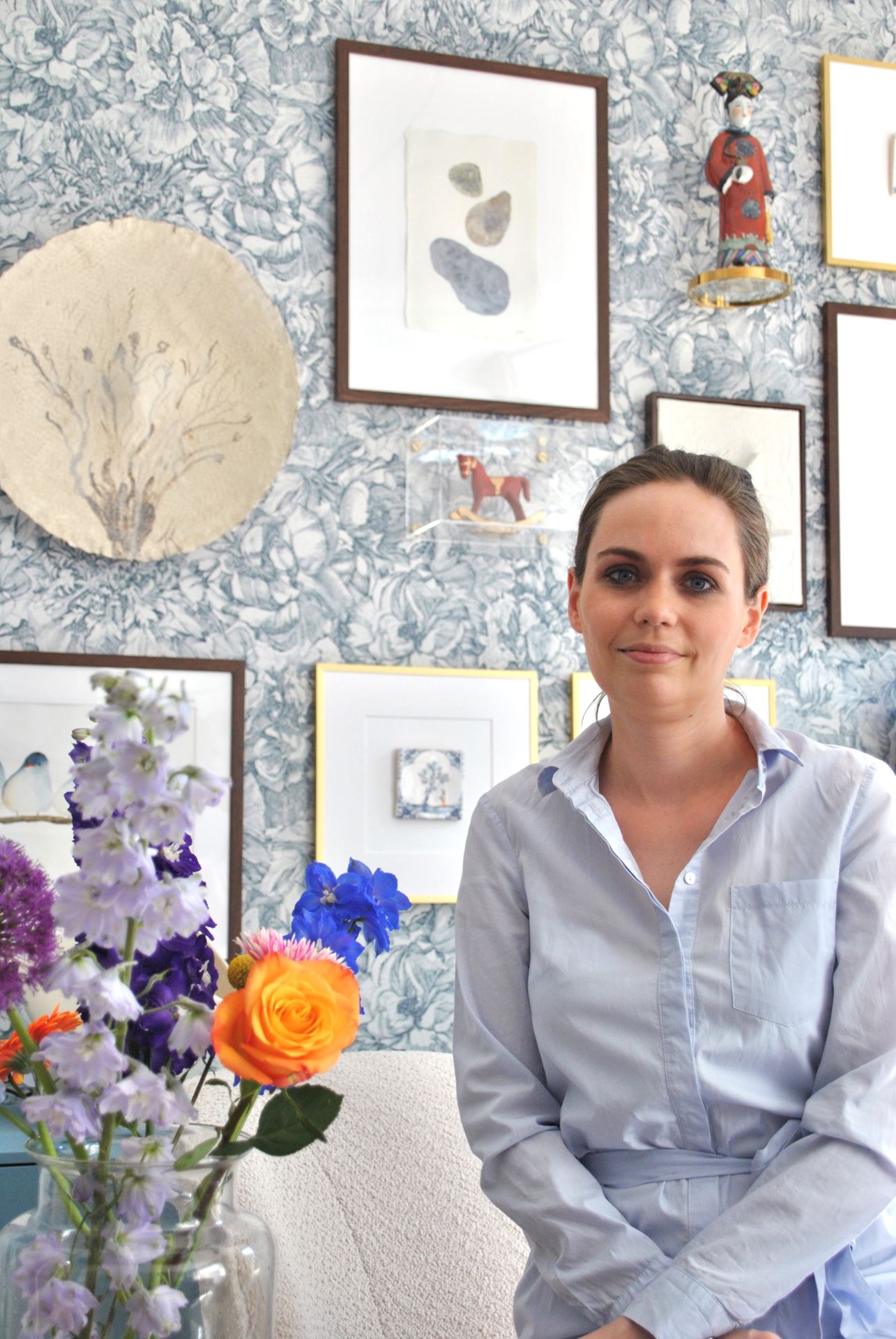 Grace is 35 years old and lives with her boyfriend and her 11-year-old son in a new-build house in Enschede. She is an artist, makes and sells watercolours with salt and also offers advice on how to create a gallery wall. Grace finds a lot of inspiration in art, and she enjoys having art in her home. She shares her styling tips and inspiration photos of her interior via Instagram account @grace_en_iris. Her goal is to show that you can create tons of atmosphere even in a generic new-build house, and can develop your own style and make your home unique by picking artistic items.
How did your passion for interiors start?
My passion began when I got a Barbie house. Not the standard model with lots of pink but one that my parents had made, and my mum recreated the furniture in my Barbie house to scale, exactly like the furnishings in our own house. From then on, I was more interested in decorating the house than playing with the dolls. Later that translated into drawing plans of houses and thinking about how I'd like my home to look later on. None of the ideas I came up with at the time have ended up in our current house. But I still like reinventing our interior, and every year, something changes, whether it's a small thing, or the colour scheme of a room.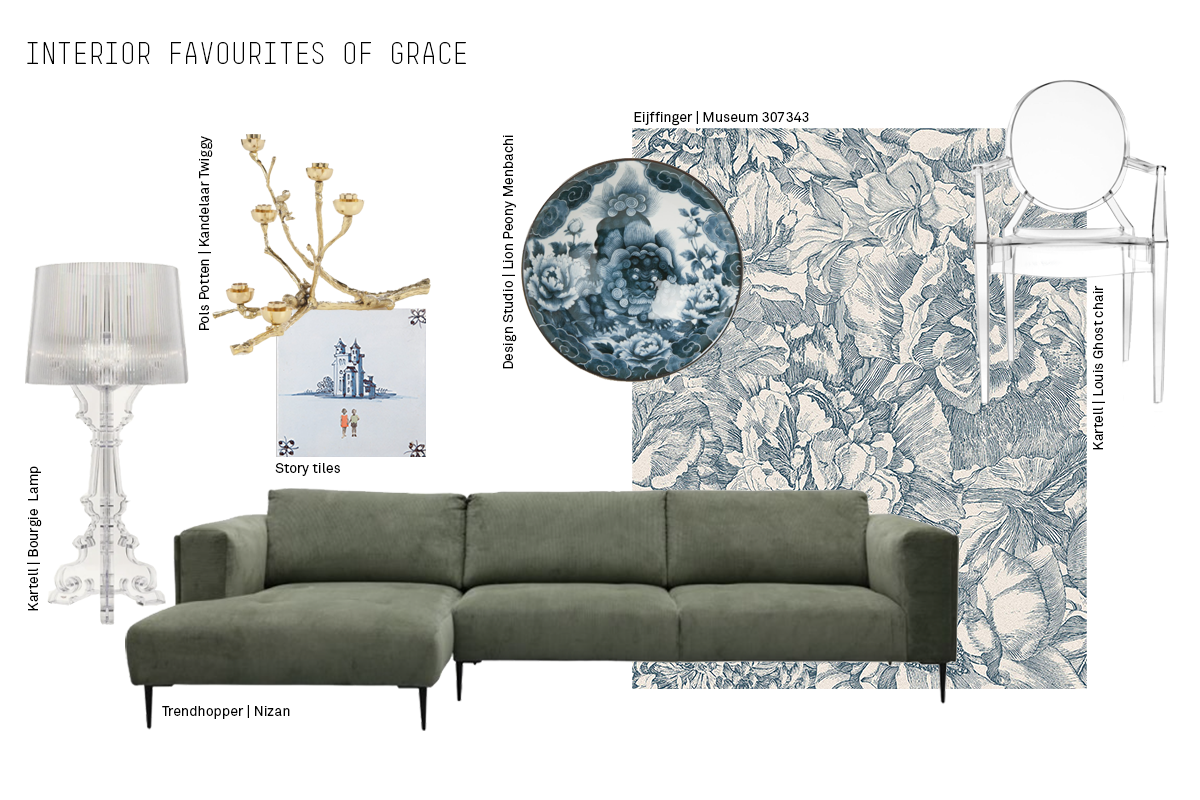 What makes you most happy when you look at your own interior?
I am most happy when I look at my interior and think it's in harmony, because it's so easy for things to become a bit disjointed, which feels messy to me. And that often happens when you buy something that looks great in the store but doesn't really suit your interior. This happened to us recently when we had to replace the floor, and the overall style no longer matched the flooring, and we had to start over. Now it feels finished again and the eye-catcher is the beautiful floral Eijffinger wallpaper.
How did the basis of your interior come about and how do you select the right accessories?
I start by looking at the furnishings we have, and the elements I'd like to emphasise. For me, the floor and curtains are the base, and I like to keep them neutral so I can easily create a new vibe in in our home when the urge to change strikes.
I always make a mood board with samples to see if what I'm picturing is realistic. For our current interior I was inspired by the classic English cottage and beach huts. The basis is clear, so I look for the right colours, the wallpaper and finally the accessories. For the latter I look at what's tucked away in my cupboards, then I go shopping. The rule is it has to match my mood board. I like to combine classic with modern things, for a nice eclectic mix. For example, I had a classic chinoiserie plate that was broken, and repaired it the Kintsugi way and hung it on the wall. That's a great way to give a classic plate a more contemporary look.
Do you have a preference for a particular interior style?
No not really, I like a lot of styles. I also switch between looks; I was into the hotel chic vibe, but now it's more beach cottage. What matters most, I think, is for the place to feel balanced; it can be bursting with colours and prints or entirely monochrome, as long as it's done well. I tend to go for a colour as the unifying element in the interior. I've picked blue. I adore the colour blue, all shades, from dark to light, and you can see that in our interior.

If you had to make a choice from the following statements, what would you choose?
Colourful | Neutral
Floral print | Animal print
Basic | Classic
Geometric | Botanical
Industrial | Romantic
Animal print | Geometric
Graphic | Etnic
Dots | Stripes
Self-adhesive circle | Mural (wallpower)

Do you have any tips for people who want to refresh their interior?
If you're thinking about making a small adjustment, my tip is to first see what you have. If you put all your accessories on 1 table you'll often see if they work well together. Many times, you can get a long way by removing things, and regrouping your accessories – before you know it, you've given your home a new feel. If you're looking to make a bigger change, tackle the walls. You can have real impact by wallpapering a feature wall, or by painting a corner in a different colour.
If you start in a new-build house like us, don't be fooled by the space – start with your base. Begin with your floor, curtains and wall colour and by combining these in your mood board first, you'll find your base, and then you can start thinking about furniture and whether you're taking your current furnishings with you, or buying new. And when you go shopping for new furniture, always take your samples of floor, walls and curtains so you can see whether it all matches. Also keep in mind the size of your house: make a drawing to scale and adjust the furniture to scale. Nothing's more jarring than a key item of furniture such as a couch, that is too big or too small for the space.
How can someone who loves your style copy it in his or her interior?
The cottage style is all about classics such as floral patterns and softer grey-toned pastels. If you love this look, go for a wall with a patterned wallpaper and pick accessories like cushion covers with a floral theme.
A vase of classic English flowers like hydrangeas is also typical of this style. And you might want to consider a gallery wall with paintings and other items. My style is all about mixing modern with classic.